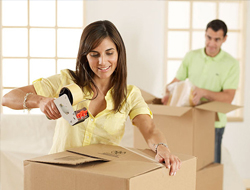 We provide packing service in London – the process of gathering all your belongings and putting them in boxes or wrapping them in paper. However, now you do not have to do that, if you do not want to or you are too busy with other important tasks. Call us and we will take care of all your possessions, making sure they are safely packed and ready to be transported to the new premises. Our company is highly experienced in the provision of packing services in London. Choosing us means choosing what is best for you.
Our Excellent Packing Services
If you opt for our packing services, you will be offered:
Well-trained employees, who know how to handle all kinds of objects, even the breakable ones
Affordable prices and flexible payment methods
Competent call centre operators, answering the phones 24/7 and able to give all the information a client would need
Punctuality and reliability – our people always stick to their appointments, for they do not want to waste your time
We understand that each of our customers has his or her own demands and this is why we approach them with individual care. You need to know that we are flexible with appointment dates and hours and we will arrive at your place at a time you find most favourable.
In order to perform our services in London in the best possible way, we always arrive at a given premises with our own boxes, rolls of paper, tape, and everything else needed. That is, you will never be asked to supply us with anything. Our packaging materials are all recycled and recyclable, for we do not want to waste precious natural resources.
Professional Packing Services London
Once we have arrived at your place we will dismantle all the sectional pieces of furniture, gather all your belongings and safely put them in boxes or wrap them in paper, so as to make sure that they will remain intact during their transfer to the new location. Special attention will be paid to the more delicate objects. Finally, we will load them in the vehicles.
Call us now for our superb packing services. As stated, we operate daily all around London. Our employees are well-trained and thoroughly vetted, so you and your possessions will certainly be in safe hands. Opt for us and we will make your moving a bit less stressful experience.